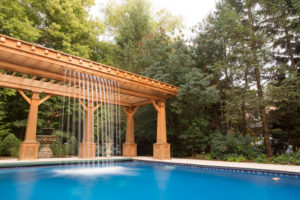 The City of Naperville was recently reported one to the wealthiest cities in the Midwest.   I started wondering why Naperville.  What makes it so special to end up with prestigious title?
I grew up in a modest neighboring town (Westmont) and moved to humbling home in Naperville back in 2000.  Ironically, at that time the taxes were considered a lot lower that neighboring towns like Downers Grove.
So… digging further into my curiosity and backtracking researching steps.  I started with one of the pictures I found on the internet that I really liked.   I initially grab the picture from a pool deck repair site but as it turns out the featured post is from a local home here in Naperville.  With a little research, I found this exact home listed on patch.com (http://patch.com/illinois/naperville/house-wow-pool-waterfall-heated-outdoor-kitchen-perennial-garden-0) under a real-estate posting.
The house is actually very close and "premium "neighbor.  I'll bet that no one knows what a fantastic getaway this back yard had. I sure didn't.  The backyard wet-dream is on Hobson Road and sells for a low-low price of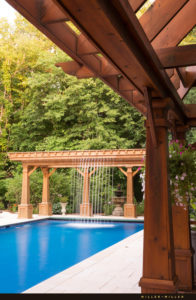 $1,730,000.  I'm now starting to understand why Naperville has shaken out to be the wealthiest city in the Midwest.
For being the wealthiest town in the Midwest it is missing one thing.  A public pool.   Growing up in Westmont I was always able to go to open swim night, for a dollar, at the Westmont High School pool and swim there four nights a week.  I live in school pool in the winter and our 18-ft standup pool in the summer.  I was in the pool so much my hair would start to turn green from the chlorine.  Eventually, I became a lifeguard and swimming teacher at the high school pool for four years.
Yes… Naperville has the quarry but it is not a place that I would want to take our 4-year old to try to teach them how to swim.  I'm currently looking for a place that I can take our daughter for a swim that is not going to cost me a $250 per month club membership.  A city like Naperville, with all of  the tax money, should make the amenities for parents like us, who want to teach their children how to swim and don't live in at 1.7 million dollar mansion.  I specifically remember when our taxes were raised for a new pool.
Sooo.. I'm just sayin.  Come on Naperville. I think Westmont has one up on you.
Click here for the home page